News
Foundation and Town secure $446,145 grant for Sweden Town Park
In a partnership that continues to benefit recreational opportunities for Sweden residents and its neighbors, the Sweden Community Recreation Foundation and Town of Sweden have secured a $446,145 grant from the New York State Regional Economic Development Council. The grant will supply the majority of funding for a 2,600 square foot Lodge, new handicapped-accessible playground equipment and a sidewalk to the canal.
This is the second time that the Foundation has hired grant consultant Stu Brown to pursue major funding for Sweden Town Park enhancements. In 2008, the Foundation used Brown to secure a $300,000 grant on the Town's behalf, helping to fund Nietopski Field, two multi-purpose fields, an outdoor skating rink and various other improvements. All told, the Town and Foundation have worked together to bring nearly a million dollars' worth of grants and donations to the Sweden Town Park.
The Sweden Park Lodge will be located about mid-park, next to Kepler's Pond. It will feature a fireplace, kitchen and restrooms. Residents, service organizations, community groups and businesses will be able to rent the lodge for events of all types – picnics, parties and meetings – year-round. The Sweden/Clarkson Recreation Department will be able to use the Lodge for programming. The grant includes funding for playground equipment to be located next to the Lodge – enhancing the venue for family activities.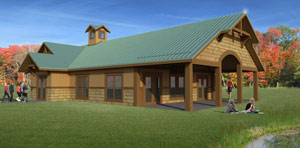 The Sweden Town Board has long been committed to providing life and health-enhancing recreational opportunities for its residents. Its major accomplishments include the acquisition of the 156-acre park for $1 and arranging the donation of the $3.7 million dollar turn-key Sweden/Clarkson Community Center to the Town.
The Sweden Community Recreation Foundation is a registered 501C-3 non-profit organization that believes that social recreation is vital to the physical and mental health of all, regardless of age, gender, ethnicity or occupation. Foundation members believe that recreation increases the quality of life not only of individual participants, but the community in general. To that end, the Foundation is committed to expanding, promoting and funding recreational opportunities for the residents of the greater Sweden community. Those wishing to contribute a tax-free donation to the Foundation in furtherance of these pursuits, may contact President Wayne Zyra at 637-6585 or write the Foundation at 4927 Lake Road, Brockport, NY 14420. Sweden Town Code
The Town of Sweden Code is now available online